Surprise! Our predicted "light dusting" of snow turned out to be a full-blown winter storm! We got about 8″ of snow! Wow! Definitely not the norm for us here in Northwest Georgia.
There is always a lesson to be learned from surprises like this! For example, I couldn't believe how many posts I was seeing on Facebook from people who hadn't filled their propane tanks yet! C'mon people, it's December! If you plan on relying on propane for heat, don't wait until you're in the middle of a winter storm to try to fill your propane tank! And then, these people had the nerve to be outraged that the propane companies wouldn't come out during the storm! Why on earth would you allow your tanks to get that low?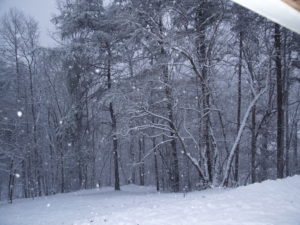 What should you have on hand to be prepared for a winter storm?
Have a minimum 2 weeks supply of an alternate heat source. If your electricity goes out during a winter storm, you need to be prepared to heat your home with an alternate heat source. We never let our propane tank get below 20%. That will heat our tiny home for more than a month.
An alternate cooking method is essential. This could be a wood stove, or a propane stove/grill. We have camp stoves with plenty of fuel, as well as charcoal. Do not rely on your electric stove for cooking during a winter storm! The weight of snow and ice on the power lines makes it likely that your power will go out for an unknown amount of time.
Battery powered radios are also essential for keeping up with news and weather alerts when your tv and internet go out during a winter storm.
You should have on hand a minimum supply of food to last you and your animals two weeks. Don't be one of those people that have to run out during a winter storm because they don't have enough hay, or dog food, or milk, or whatever other essential item, to get through the storm! Not only do you put yourself at risk, you put the first responders that come to help you at risk! Check out this article for ideas on how to plan your food storage.
Some other items to consider are paper plates and cups. You may need to conserve water if your power goes out.
Always keep a two week supply of essential medications on hand.
Don't forget about sanitation items like toilet paper, wet wipes, cat litter, soap, bedding for your animals, etcetera…
What else can you think of that you might need to have on hand to get through a winter storm? Think about what your family uses on a daily basis. What couldn't  you get by without? Make a list and have your supplies on hand before the next winter storm hits!