My Farmhouse Quiche is perfect for breakfast, lunch or brunch! It has a salty, smokiness, from the bacon and a savory, sweetness from the caramelized onions. The cheddar cheese and whipping cream give it a creamy, cheesy, fluffy decadence that everyone in the family will love! And, it's a great way to use up some of those extra eggs, too!
Continue reading to learn how to make this delicious Farmhouse Quiche…..
---
---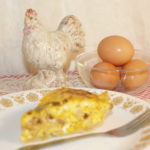 How to make Farmhouse Quiche:
Ingredients for Farmhouse Quiche:
1 Pie Crust (See recipe below, or use a prepared pie crust if you prefer.)
2 Onions, Chopped
2 Tbs. Butter
12 Ounce Package Bacon
6 Large Eggs
1/2 Cup Heavy Cream
Salt and Pepper to Taste
2 Cups of Grated Cheddar Cheese
Prepare your pie crust and set aside.
Preheat your oven to 400 degrees.
Fry your bacon until crispy. Drain and cut into bite size pieces. Set aside.
Saute your onions in the butter over medium heat until they are golden brown. Do not set your heat too high because your onions will burn. You are going for golden brown, caramelized onions.
Whip the eggs, cream, and salt and pepper in a large bowl with a whisk until fluffy.
Add the onion, bacon and cheese to the bowl and stir until combined.
Pour mixture into your pie crust and cover loosely with aluminum foil.
Bake at 400 degrees for 45 minutes.
Uncover and bake for another 10 or 15 minutes, until the top and the crust are golden brown.
Quiche will continue to set upon standing.
Slice, serve and enjoy!
Super Easy Crust for Farmhouse Quiche:
Combine 1 cup flour, 1/2 teaspoon salt, 1/4 cup olive oil, and 1/4 cup ice water in a medium size bowl.
Mix, first with a fork and then with your hands, until a soft dough ball forms.
Spray a 9 inch pie pan with cooking spray.
Pat the crust into your pan with your hands to cover the bottom and sides of the pan. You can use the bottom of a measuring cup to help press it into the pan, if you like.
Note: The great thing about quiche is that, once you get the basic technique down, it's really easy to change up the filling to whatever you have on hand. Try different combinations of veggies, meats, and cheeses! Quiches are so versatile!
Read next: Protect Your Chickens From Bird Flu