Welcome to the internet home of Goose Creek Homestead! My name is Krista, and I am a Christian Mom of two wonderful kids, a full time pet groomer, a blogger, and a homesteader! Goose Creek Homestead has been a dream of mine for as long as I can remember. I have planned, studied, practiced, and most of all dreamed about starting a homestead for many, many years!
In November of 2016, we finally purchased land for our homestead! I am overwhelmed with excitement just thinking about it! We now own almost 6 acres in the Smoky Mountain foothills of Tennessee. There is nothing there but woods right now (and blackberry brambles!!!), so we are literally starting from the ground up! We can't wait to turn it into a functional, homestead paradise!
We will be completely off grid from day one (electric service isn't even an option there yet!). The road to our land is a dirt road and is privately maintained. There are a few very small towns (pop 300ish!!!) near us with gas stations and convenience stores. The school my daughter will attend, if she decides she doesn't like homeschool (we are going to try it for the first year), is actually very close to where our property is, and is one school for grades K-12. There are a couple bigger towns about 30-40 minutes away with the important things like a hospital, Tractor Supply, and a big grocery store. The closest big city is about an hour away.
As you can imagine, there will be a lot of preparation and change involved in making a move like this! Currently, we are living in a 4 bedroom, 3 bath house in SW Florida. Our current property is in the country and we have goats, chickens, cats, dogs and a small garden. We both work full time. Our 12 year old daughter attends public school and is currently a straight A, 7th grade student. George is a full time cook, and blogger. I am a full time dog groomer and blogger. Look in the sidebar for links to our other blogs!
Our 22 year old son will be staying here in SW Florida, with our blessing. He has a lot of friends here, and at his age, that takes priority over living in the woods. We also have family here, so he won't be completely on his own, and we'll be back to visit when we can.
This blog will chronicle our journey from the dream to reality, starting from the ground up, and everything in between! I hope you enjoy the journey, and learn from our mistakes(I'm sure there will be many!) and from our successes(hopefully, there will be many of those too!).
I hope you enjoy the journey!
Krista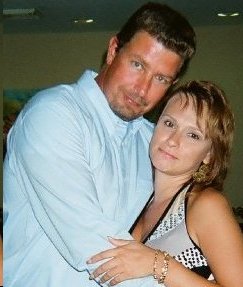 For God so loved the world, that he gave his only begotten Son, that whosoever believeth in him should not perish, but have everlasting life.  John 3:16